Request for Quote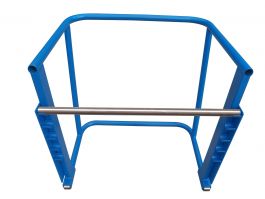 Tip-Up Cart (Portable Pay-Out Carts)*
Reel Capacity: 48" dia. x 32" wide x 2,000 lbs.
Portable pay-out stands have five (5) reel loading positions for various sized pay-out reels.
The operator uses his/her body weight as leverage to lift the reel into position.
Replaceable bolt on axle brackets. No more cutting and welding to replace worn brackets.