Request for Quote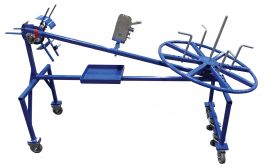 MMC-001-01
Manual Mobile Coiler with 3100M Measurer p/n 13650-317
• 31" Turntable with 4 adjustable pins to hold coil in place. Center pin is for holding reels.
• Turntable weight capacity 150 lbs. maximum.
• 10" ID x 20" OD x 4.5" Wide collapsible coiler with positive locking device.
• Tool tray for holding cutters, tape and misc. items.
Measurer mount for 3100M p/n 0207-428