Reeling machine/take ups Reel Power Industrial NK Series is able to integrate tremendous power with impeccable performance.
NK Series take-up reeling machines and coiling machines come with a powered hydraulic controlthat enables the operater to easily raise or lower the reel without any distortions in torque or mechanical capabilities.
This is an engineering milestone for Reel Power Industrial. While it improved demand for their NK Series reeling and coiling machine.
Reel Power Industrial builds both standard and custom reeling machines, therefore we can supply a speed or torque rating to fit your individual requirements, all machines are equipped with heavy duty floor locks plant it firmly to the ground, so it reels and coil with extraordinary stability.
Multidirectional wheels that allow the machine enhanced maneuverability in tight spot, or while operating down a long line, this flexibility allows users to locate the machine in the most convenient spot to complete its reeling function.
The slide drive allows the operator to easily and quickly engage and disengage the drive motor and shaft to facilitate with reelloading and unloading operations.
The NK reeling machine is designed to achieve an excellent or even lay of materials in the reel, the Slide Traverse mechanism on which the measurer is fastened to ensure it!
This is how innovative engineering design from Reel Power Industrial delivers convenience to these genre of reeling and coiling machines.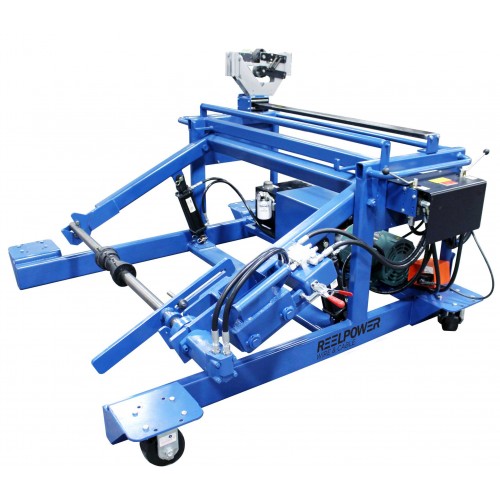 Here are some important features offered on the NK Series reeling and coiling machines that made it a big hit in multiple field applications:
• Integral Hydraulic Push Button Cutter
• Manual Shaftless Feature
• Electronic Stop to Length Counter
• Paralleling Guide Box
• Safety Guards
• Collapsible Coiler (Steel or Aluminum)
• Powered Traverse Systems
• Measuring Meter
• Paralleling Reels
The NK Series can spand a reel capacity of 4,000 - 10,000 lbs making the NK Series the most sought after, versatile, proven model for a wide range of reeling requirements of electrical cables, unsheathed or sheathed, ropes, steel wire ropes, rubber hose, extrusions, plastic pipe, or any other extruded products that are flexible and usually reeled or coiled with varying diameters.
About Reel Power Industrial
Machines that are efficient, productive, profitable and safe, lowering a customers risk of buying and providing improved profitability. Reel Power Industrial products are convenient for customers to use; investing manpower, time and technology to achieve this made Reel Power Industrial stand apart, and the World Leader in reeling, coiling and spooling equipment!
Since 1948, Reel Power Industrial is the only standard and custom design, reeling, spooling and coiling manufacturer in the USA. With over 100 years of combined manufacturing experience, it is the parent of Reel power Wire & Cable, Reel-O-Matic, and Tulsa Power.
Customization is our specialty-Within our brands you can find products that answer all your needs, yet we are always ready to customize products exclusively for our customers.
Elite engineering-We select talented as well as qualified engineers to envisage product design for our valued customers, with over 20 engineering professionals to serve your equipment needs. We always strive to improve on quality as well as safety of our products. Hence, each step of the manufacturing process is well organized and managed to provide our valued customers with the finest reeling, coiling and spooling equipment in the world.
How we grow with time and channels growth- The external market place isdynamic in nature; industrial requirementschange rapidly with new technology, improved materials and componenets, we are committed to staying on the leading edge of innovation to provde the best equipment in the world. Our dedicated research team reflects the latest requirements in our industry, then our manufacturing team implements the changes into the equipment, successfully with the latest technology. Hence our products keep up with the trend, style, and productivity of the day!
To know more about our exclusive range of products, connect with us at: [email protected] or call us at 405-672-0000.