Revolutionary design with Permanent Magnet AC motor delivers new levels of take-up efficiency
Offers a smaller footprint with fast and economical performance
Oklahoma City, OK (October 26, 2020)… As demand for copper wire and other cable products grows, distributors continue to look for ways to improve efficiencies, reduce costs and maximize space in their facilities. In response to industry trends, Reel Power Industrial, a leading manufacturer of reel and coiling solutions, recently added a new rim drive shaftless take-up to its popular RD line. The units are typically used by wire and cable distribution facilities where large spools of copper wire are transferred down to smaller reels for contractor use.
The new Rim Drive Shaftless Take-up's (RD10) reels are "rim driven" allowing for quick change out and loading of large wire and cable spools. The machine uses a geared motor to drive a roller which rotates the cable reel as it coils. The output shaft of the geared motor is coupled, via chain and sprocket, to the drive roller. A smaller motor/gearbox drives two threaded rods which, in turn, move the ejection roller up and down the frame. This allows the operator to accommodate various size reels while maintaining consistent winding torque through all speed ranges which is critical to ensure proper spooling.
"Manufactured for over 30 years, the RD line has been periodically updated to take advantage of innovative technology as it became available," said Joe Crosley, Sr. Electrical Engineer at Reel Power Industrial. "Initially, RD Series take-ups were offered within a range of mechanical variable drive systems that provided high-torque but were cumbersome and expensive to maintain. Then, as VFD motors and controls became available, we upgraded but had to increase horsepower to maintain low-end torque."
The goal was to design a new roller drive system that would fit in a smaller footprint while providing superior efficiency. The only way to meet the reduced size requirement was to utilize a more power-dense, right-angle geared motor vs. the in-line drive used on previous versions of the machine.
The RD unit requires a variable speed control to allow the operators to control the rewind process. "Switching to permanent magnet (PM) motors proved to be the best solution." Crosley added. The PMAC motors reduces heat losses from the rotor by 100% and total losses by approximately 25%, while increasing total efficiency by 10% or more. This improved performance translates into lower total cost of ownership, a reduction in CO2 emissions, and ongoing savings that buffer against future increases in energy costs.
The new RD10 units provide smoother acceleration and deceleration with no "cable popping", reducing the risk of damaging strands. A footswitch, and central operator controls with handheld speed pendant allow the operator to wind material onto a reel or onto a coiling head. The footswitch can be "jogged" without tripping the drive – allowing for easy packaging of the spooled material. Dynamic reel braking reduces "over spin". RD10 units generate lower ambient noise compared to mechanically driven units.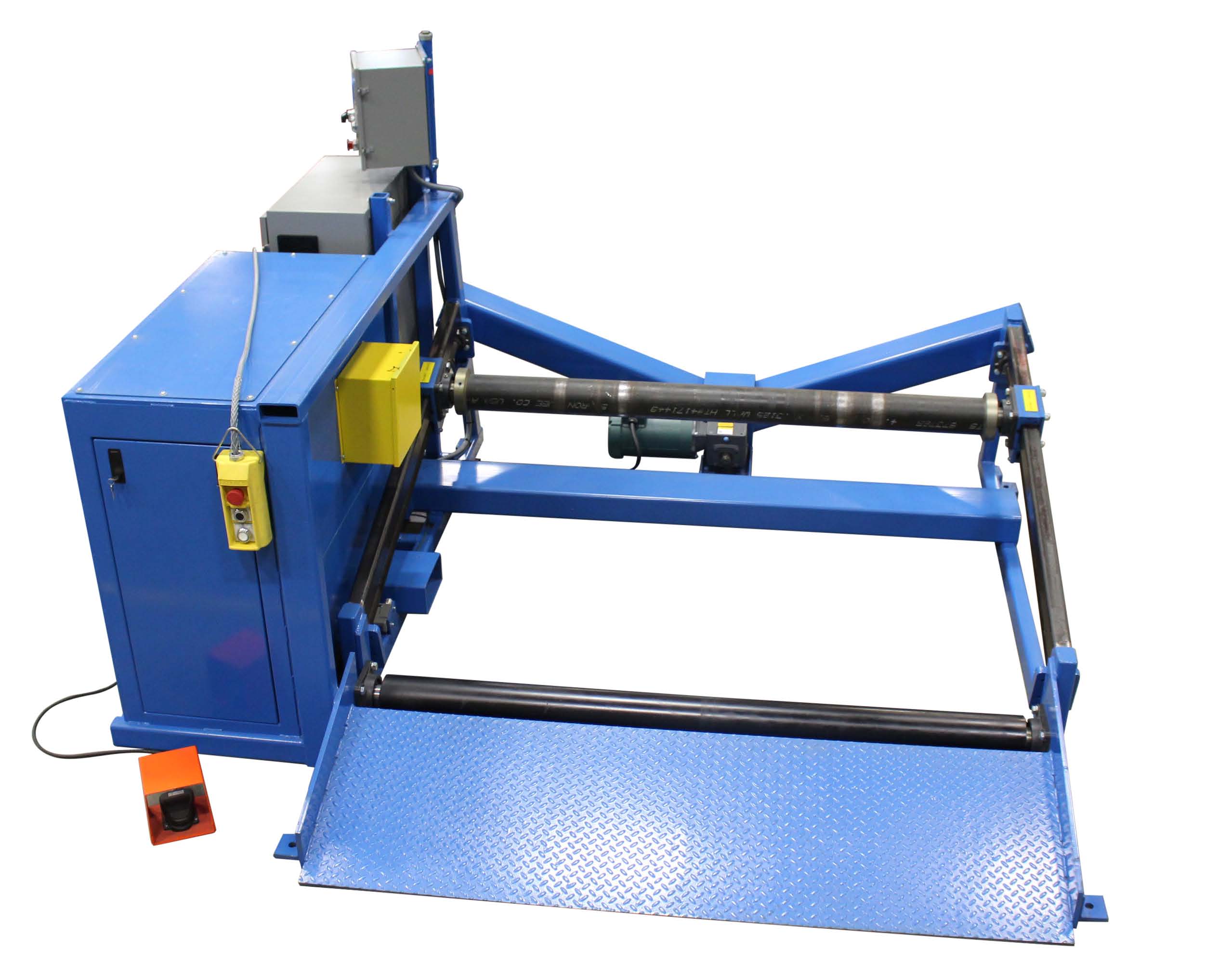 The new RD10 rim drive shaftless take-up utilizes a new economical roller drive system that fits in a smaller footprint while providing superior efficiency.
About Reel Power Industrial
Reel Power designs and builds standard & custom reeling and coiling equipment, delivering innovative, lowest total life-cost, flexible material handling solutions.
The company is committed to reducing client's overall business risk and improving their profitability by providing "World Class" Equipment, Engineering & Processing solutions for flexible materials to distribution manufacturing environments. The company offers processing solutions and complete field service & consulting.
Reel Power Industrial was formed from the merger of Reel-O-Matic with Tulsa Power, two industry leaders with a combined 100-plus years in the business. Reel Power Industrial is a division of Reel Power International, a developer and builder of proprietary equipment for the Oil and Gas Industry and Industrial Business, owning and operating more than 200,000 square feet of custom manufacturing facilities.